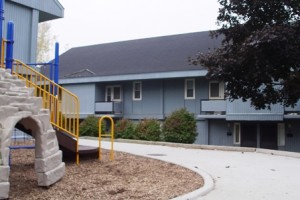 Jubilee Apartments, 10 Francis Avenue, is located in an urban residential environment, on a hillside overlooking Pittsfield's downtown commercial district. Opened in 1972, Jubilee consists of eight 2-story buildings housing twenty-two attached townhouse-style units for family living. Heat and hot water  are included, tenants pay Electric.
There is a community room, a basketball court, and ample parking. Jubilee Apartments are three or four bedrooms each and are equipped with hot water heaters, and washer/dryer hook-ups.
Jubilee Apartments
10 Francis Avenue
Pittsfield MA, 01201
Get directions to Jubilee Apartments.
Building maintenance is available 24 hours a day by calling: (413) 443-7100