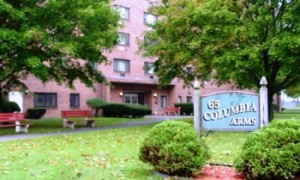 Columbia Arms, at 65 Columbia Avenue, is set within a secure urban residential neighborhood overlooking Pittsfield's downtown commercial district. Constructed in 1972, Columbia Arms is housing for the Elderly/disabled, with elevator accesibility to the 91 apartments on seven floors.  Five of those floors also include a two-bedroom apartment especially designed to accommodate residents with disabilities.
The Pittsfield Housing Authority offices are located on the first floor of Columbia Arms.
On-site parking is available. The community room offers many ammenities for tenant activities. There is also a coin operated laundry facility.  All utilities are included.  Visitation is available by the Berkshire Visiting Nurse's Association, and Porchlight VNA Home Care.
Columbia Arms
65 Columbus Avenue
Pittsfield MA, 01201
Get directions to Columbia Arms.
Building maintenance is available 24 hours a day by calling: (413) 443-7100.