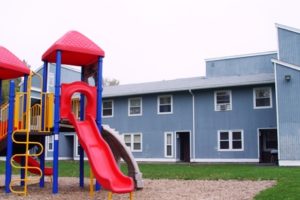 Dower Square, 253 Wahconah Street, is situated  in the North end of Pittsfield, a commercial residential area, near several churches, family owned business established since 1914, and Wahconah Park. Dower Square family apartments offer 50 townhouse and single-floor 2 story buildings, ranging in size from 2 to 5 bedrooms.
On-site parking is available. Heat is included. Larger apartments feature an additional half bathroom. Dower Square Apartments are furnished with washer hookups, plus a community room with coin operated laundry facilities.
Dower Square
253 Wahconah Street
Pittsfield, MA 01201
Get directions to Dower Square.
Building maintenance is available 24 hours a day by calling (413) 443-7100.